SHOP KIDS ELECTRIC CARS & TOYS
Best Selling Cars For Kids, Ride on Cars & Kids Car
SHOP RIDE ON TOYS AND CARS FOR KIDS
Wide Range of Ride on Toys
At Ride on Toys Kids, we stock a plethora of toys for you to choose from. Whether you're hunting a toy for your kid, niece, nephew, or for anyone else aged between 12 months to 7 years, we are sure you'd find one that would suit your needs. We offer licensed ride on cars from popular car makers such as Kids Audi Cars, Mercedes Benz Kids Car, Range Rover for kids, BMW, and Vespa. Licensed ride on toys are the ones that the manufactures have the license or legal rights to use brand holder's badges, styling and features to replicate the real cars as much as possible. The quality of these toys may also be overseen by these brand owners, so we know they are made of the highest quality and meet the quality standard.
We also stock a wide range of replicas or models that are inspired by real life cars such as Bugatti, Porsche, BMW, Maserati, Mercedes, Range Rovers, and more. Such ride on toys are exact opposite of licensed version, that is, they don't use real badges/logos, exact styling or features of a real-world car maker. Even though, build quality of licensed toys are generally better than the replica ones, we always ensure we get the best quality replica toys that meet the Australian standards along with 12 months of warranty for your peace of mind.
You can also choose our range of electric kids car, balance bikes, push cars, remote controlled kids toys, pedal-powered go karts, swing cars and mini cars for kids. You can view your perfect toy for your kid by visiting our ride on toys page today and purchasing something from our wide selection.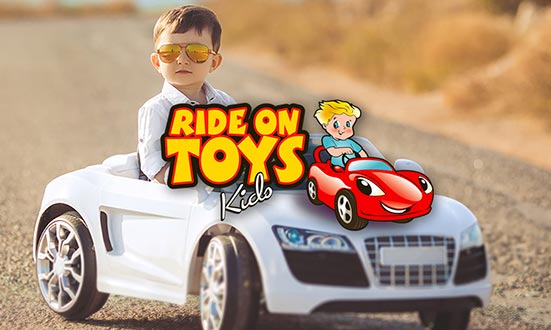 Free and Fast Delivery Australia Wide
Being a local business, we guarantee fast delivery on all our orders. All our warehouses are located within Australia, so you know you won't have to wait for months to receive your beloved toy. At Ride on Toys Kids, we offer 24-hour dispatch on all ride ons. We ensure all orders are shipped from our warehouse within 1 business day, as soon as your payment clears. Most of the orders to metropolitan areas are delivered within 2-7 working days.
We understand that you want your ride on toys delivered as soon as possible, which is why even during COVID-19, we are still trading as normal and are dispatching orders within the guaranteed timeframe of 1 business day. We also care about our staff members and ensure all government guidelines are being followed.
During this difficult time, we're doing our bit by not only keeping our prices as low as possible but also by offering free delivery on all orders Australia-wide. We encourage people to stay at home and be able to buy gifts for your loved ones without leaving your home. We only use reputed couriers service such as Australia Post, Toll, and Aramex [formerly Fastway Couriers].
12 Months Warranty on All Toys
We care about our customers and customer service is of paramount importance to us. At Ride on Toys Kids, we're proud to thrive on our customer service and we ensure all our customers are satisfied with our service and our products. If there is a problem with one of your ride on toy, we fix it right away. We know how important this purchase is to you which is why we treat each individual purchase as one of our own.
For your peace of mind, all our ride ons come with 12 months of warranty. You can rest easy knowing that if anything goes wrong, we're here to help and get things fixed for you. You don't need to stress over sourcing different parts or opening up your toolbox to fix your large motorised toy. Just shoot us an email and one of our friendly support team members would assist you. Be wary of sellers who only offer limited time warranty.
We ensure all kids ride on cars are sourced from best suppliers. Although most of these toys are made in China, that doesn't necessarily mean they're of bad quality. Even iPhones are made in China and they last forever. Which is why we ensure we only use suppliers that source these toys from trusted and reliable manufacturers. All our ride on toys complies with Australian safety regulations and chargers are SAA-Approved.
Competitive Pricing & Great Discounts
We offer a wide variety of ride on toys at competitive pricing and special limited time promotions. A huge range of options doesn't mean a lot if those options aren't sold at a reasonable and affordable price which is why our range starts from as low as $67, including delivery. This allows you to find the right toy for your loved one without breaking the bank.
We not only offer competitive pricing but we also offer Australia's favourite Buy Now Pay Later payment merchant – Afterpay. It allows you to split your purchase in to four easy instalments. The first instalment is deducted at the time of your purchase and then remaining instalments are deducted every fortnight. The best part about this is that you don't have to wait to receive your order as we ship it as soon as your order [your first instalment] goes through.
Kids Safety Is Imperative to us – Ride on Cars
The most important thing that needs to be looked into while purchasing a kids ride on cars is the level of safety features they offer. From the quality of the material used to safety features such as seatbelts and harnesses used, it's very important that these toys are manufactured to meet the necessary guidelines and standards set out. You can buy a ride on toy from us knowing we only sell toys that meet all these guidelines and standards.
We encourage parents to monitor their kids while they operate their ride on. Even though, older kids can fully control their ride on car, it's vital that parents supervise them to avoid any dangerous situation.
Most of our cars come with the parental remote control with an emergency stop button for additional safety. These remote controls come with different speed modes along with forward and reverse options. Parents are able to steer the electric toy left or right which gives them full control over it. This is one of the reasons why we encourage customers to buy toys that come with the remote control.
Additional to these safety features, it is important to note where these ride on toys are being driven. We generally recommend these toys to be ridden in a wide, open outdoor space with a smooth surface for best traction and grip. This allows kids to explore the area and also removes the possibility of them bumping into walls or objects. After all, the main objective of these toys is to get kids away from excessive screen time and get them to enjoy the weather outdoors. These toys may be ridden indoors but ensure there is ample of space, no movable objects or furniture with items such as lamps, electronic devices, painting, etc that may fall after a collision.
We request customers to follow each step mentioned in the assembly manual, skipping any step may cause the structure of these kids car to be not as strong as they can be. We also insist customers to make sure all screws and clip-ons are tight and recommend checking them every few months to ensure they are tight enough. The motorised toys require some additional steps to ensure there are no safety hazard, such as battery and electrical components can get affected if they get in contact with water.
If you have any more questions, please get in touch with us. We are happy to help you and provide you with advice about purchasing kids car from Australia's #1 Ride On Toy Retailer: Ride on Toys Kids
Looking for a Ride on Toy for your Kid?
Your kid may be wanting a motorcycle, SUV, sports car, trike or utility vehicle. Whatever their desire, we have it available in our store and ready to be shipped. Our huge selection of licensed ride on toys and replica cars are going to appeal to any and every kid. We have both motorised and non-motorised ride on toys available, and we have toys to fit anyone's budget. You can get exactly the car you want for your kid and ensure that they will love playing with their ride on and spending time outdoors, socialising with other kids.
Cars
Our Ride on Cars range start from as low as $120.
Motorbikes
Our Ride on Motorbikes range start from as low as $60.
Toys
Our Ride on Toys range start from as low as $36.
What our Happy Parents Say
Thanks for the car my son loves it thanks once again. He hasn't gotten off it since I assembled it for him. Thanks heaps

Bought a Pink Mercedes for my niece and she loves it to pieces. I'm her favourite uncle since the day i've bought this for her. Love her cruising around in her hot pink Merc with daddy playing her favourite tunes. Thanks a lot guys

Billy

My 4 year old absolutely adores it, perfect gift for Chrissy and delivery arrived right on time, couldn't be happier.
What Makes Ride On Cars So Popular?
Ride on Toys Kids, a local Australian-owned and operated business, experience and trusted amongst the Aussie community, has an extensive range of ride on car, which are proven to provide kids a great level of enjoyment while helping them to build their cognitive ability and gross motor skills. Kids are fascinated with these battery toys as it gives them an experience of real-life driving and feel all grown up like their parents. This is one of the reasons why kids toy cars serve an amazing pathway for kids at young age to channel their energy, focus on outdoor activities and helps parents mould their kid's personality.
Ride on Toys Captivate Children
Amongst all toys, cars for kids are the most exciting, fun and engaging gift you can buy for your loved ones. These toys captivate children's attention along with providing them with an excellent opportunity to learn motor and cognitive skills while having a time of their life. This is an important phase in the growth and development of kid's personality, and these electric cars provide the right platform by tapping into the inquisitive nature of the kids, which allows them to acquire knowledge faster and grasp what is happening around them. Kids while playing with such toys learn how technology works and it creates a memorable experience for the rest of their life.
Helps to boost their imagination in a controlled environment
In order to support your child's development, it's important to choose the right toy. There are several key factors that can help you decide the right ride on toys. First and most important being the age of your kid. Ride on Toys Kids offer different type of toys for different age group. For younger kids, most suited toys are push cars, where it's easy for kids to be able to play with their new favourite toy, under the supervision of their parents.
These electric cars and motorbikes help kids to grow mentally, boost their creativity and imagination which are some of the key elements required in the growth and development of a child. For the next age group, we can slowly introduce motorised toys, as the child has now developed basic motor skills. These electric cars with parental remote control, gives a sense of reassurance for the parents to be able to supervise their kids while they enjoy themselves.
For ages 5 and above, when the kids have developed intermediate motor skills and are full of energy, parents can choose ride on toys which offer advanced features and multiple levels of speed. Kids enjoy these ride ons, as it gives them a sense of independence and control over their toy.
Another important factor in choosing the right electric car for your kid is the style, model and colour of ride on toy based on their preference. When kids reach a certain age, they become more decisive in what they want. They know exactly what features, style and colour they are fond off, and this gives parent an opportunity to select a toy based off their child's preference. In younger years of kid's life, parents are their role-models and they try to imitate them. The perfect example of this is a kid wanting their parent's car as their toy, which is why we stock a wide range of toys, either be a replica model of a real-life car, or a licensed version of these branded cars such as Audi, BMW, Mercedes-Benz, etc.
Kids' Car Boosts Creativity and Improves Spatial Intelligence
As kids start using ride on cars daily and independently, it boosts their confidence, along with increasing creativity. When kids are riding their favourite toy themselves, they indulge in pretend play and try to mimic real life scenarios which is a very crucial step in boosting their creativity. They are not only enjoying themselves but by using these toys often they are also enhancing their spatial intelligence which plays a vital role in the life. These spatial skills are important and helps kids in visualising things by play acting make-believe scenarios.
Kids car are an important building block and provides a foundation in the development of kid's mind. While they are play-pretending they can unknowingly develop important skills such as avoiding obstacles, learning how to control and manoeuvre their toy. This in turns help with fostering better and safe driving skills and control over their vehicle in future. The kids learn how to open/close doors, move around their backyard/frontyard and how to start/stop their toy. These all integrate together which boosts their cognitive development and is another reason why parents and kids love these toys. At younger age, such toys also assist in building balance and coordination skills. Music and realistic sound features on few of these toys also assist with the sensory development as they learn how to use different sounds such as horn and learn cause and effect of these important sounds. All these things integrated together builds a better understanding amongst kid on how to use their body and control actions all while having fun and enjoying their ride.
Kids Ride on Toys Encourages Independence
Whether you are buying these electric toys for birthdays, or for Christmas, they for sure make a very special and a memorable gift. Ride on Toys are also very popular in weddings and photography shoots. When you place an order with us, we keep you updated step-by-step from the moment your order is confirmed, to the moment your order has dispatched our warehouse along with your tracking details.
All kids look up to their parents and love to spend some quality time with them. Not only that, it gives an opportunity for the parents as well to spend some time with them. This bonding experience, while kids enjoy their favourite electric toys, has been proven to be extremely valuable in the growth and development of the kids. Ride On not only gives kid and parents some time together but they also help kids in gaining a sense of independence, under the supervision of parents. Since most of these toys come with dual control, i.e. kids can control the toys as well as parents can control with remote control, it provides kids full control over their toy and can ride independently.
All our toys require minimal assembly and come with a detailed manual, guiding you how to put your ride on toys together. They should take only around 10-30 minutes to put together, and you can make it special by spending time together with your kid, while they eagerly wait for their new toy to be ready to use.
Our Ride ons catalogue is suitable for kids aged from 12 months to 7 years old. We have a wide range of toys, while most of the electric toy cars come with the remote control for the parents, who are then able to completely control the kids car. We also have a range of pedal and push toys for younger kids.
When the kids ride on cars are assembled and ready for use, you can see a big smile on their face as they have a blast and hours of fun playtime. As a parent, there is no better feeling than seeing that smile on your kids face.
Kids Ride on cars and Toys come in different shapes, size and colours. Kids have a short attention span but ride on toys can help entertain them for hours by keeping them focussed at activity in hand, which fosters independent play. Since, these toys are loved by all kids for indoor or outdoor play, it also promotes the sense to take care of their belongings.
How to Choose the Right Ride Ons?
As mentioned above there are variety of kids ride on toys available, they come in different shape, sizes, power, colour, make and design. With all these different choices available, it can be a bit overwhelming to choose the right toy. We, at Ride on Toys Kids are here to help you make the best choice, which is why we are Australia's Leading Ride on Toys retailer. You can get in touch with us via Live Chat or email us on info@rideontoyskids.com.au to help you in choosing the right toy for your needs.
Below are mentioned few of the factors which can assist you in deciding the right electric car for you kid:
Design and Quality– We stock a wide array of popular models of real-life cars as well as their replicas. We also have different type of shapes available for these ride on toys, so whether you are looking for a SUV style ride on car, a fire truck, or a ride on motorbike, we have it all.
Quality of these motorised ride on is another aspect to keep in mind while deciding which toy to purchase. We only source high quality toys from local Australian suppliers for the safety of your kid. You may see cheaper toys available at other stores but stay away from these kind of toys as they will not last long and you don't have to worry about the safety of your kid.
Motor size– Motorised ride on cars use a motor to move the car forward or backwards. There are generally 3 options in motor, single motor, dual motor and 4 motors. Single motors are best for small battery-operated toys, dual motors are ideal for all ride on toys while 4 motors should only be used in bigger (mostly 2 seater ride on toys) for kids older than 7 years.
Battery– Another key factor while deciding which toy to buy is their battery life. There are generally 3 options in batteries as well. There is 6V battery, which is ideal for smaller toys that generally don't go too fast, so that they don't use a lot of battery. Most common battery size is 12V, which is ideal for most ride on cars. They last for hours' of fun and can help power dual motors. The last option is 24V which is only used on toys that have 4 motors and are big in size.
We also stock a wide range of non-motorised ride on such as pedal and push bikes. These toys don't require an external source of power and can provide hours of fun without the need of charging it. They also act as a great physical activity for the kids, which encourages them to go outdoors and interact with environment and their friends. We also have different style and colours available in these non-motorised toys so that you can choose the model that fits your or your child needs the best.
Ride on Toys Australia
Kids enjoy playing with toys which make them inquisitive, and Ride on Toys ensures kids are curious and excited. We stock toys that are exclusively designed for young children that are safe and their parents who are very pleased to learn the benefits of owning a kids electric car since it adds to the growth of children. Ride on Toys Kids guarantees delivery within 2-9 working days across Australia with no additional delivery charges.
Every child would love to own their dream car and we make sure to provide best quality kids electric cars across Australia. Immense appreciation and love have kept our team motivated to constantly innovate and create the best range of ride on cars in Australia. Undeniably, these toys provide a competitive range for kids' cars and has proven its worth in this niche competitive space over a period of 5 years. Ride on car Australia offers a wide range of vehicles for children in various sizes, models, shapes, and colours. In addition, we personalise mini plates by adding kids name on the back of your kids car which adds a personal appearance and sense to the toy.
These toys contribute to building learning ability of kids. First, it enhances their power of concentration and retention by constantly looking into the space and recognising safe vs dangerous driving areas. Secondly, by driving a car, the child would remain physically active and would not have a sedentary lifestyle of being stuck in front of a screen all day. Most importantly, the importance of physical activity in the health of the mind, body and soul cannot be overstated. Motivating kids to exercise daily can be an excruciating task, however, children would proactively drive their cars given the excitement they derive from it.
Kids play time should not be ruined due to continued COVID-19 restrictions. Ride on cars facilitate indoor and outdoor amusing hobby time for children. Thirdly, kids' electric cars in Australia are becoming increasingly popular and fashionable. Proudly owning a popular toy makes the kid accountable for keeping the toy safe and smooth. Thus, it instils a sense of responsibility within the kids from a nascent degree. Fourthly, kids' electric cars can act as an educational toy for children by making them privy to one-of-a-kind alphabets, colours, shapes of the vehicles.
Lastly, it improves the happiness quotient in children as they sense a feel of pleasure at the same time as they are absolutely engaged in driving trip on cars. Disruptions from the pandemic significantly impacted the physical and emotional development of infants and toddlers and ride on cars Australia feels confident in positively contributing to the lives of young children and parents.
Kids Ride on Cars
Shop premium kids ride on cars at discounted prices! Our great collection of these kids ride on cars gives you the flexibility to choose your desired model, make, colour or size based on your budget and preferences. We also offer Free Shipping within Australia for hassle free experience. Kids ride on car combine fun with great functionality, so not only do your kids get to enjoy driving around with their favorite toy car but also learn and improve their cognitive ability. Cognitive skills are crucial in development of kid's attention, memory and thinking.
Ride on Car
Buying ride on cars for kids is a great way to inspire them to get outdoors and increase their awareness about their surroundings. Ride on Car develops kids motor skills and improves cognitive ability. It also encourages the kids to share their toys with other kids. For this reason, purchasing a ride on car is considered a great gift not only for the child, but also for parents as they can enjoy watching their kids develop these crucial skills while having fun. For these reasons
Ride on Toys
Ride on toys is considered one of the most sought-after kids toys every year. There are various key benefits of these ride on toys. As discussed earlier these kids' toys assist in enhancing the development of cognitive and motor skills amongst kids.