SHOP KIDS ELECTRIC CARS & TOYS
SHOP RIDE ON TOYS AND CARS FOR KIDS
Why Choose Ride on Toys Kids?
Ride on Toys Kids is Australia's #1 Retailer, that started back in 2013 and has been a family owned and operated business. We are locally owned and operated, we thrive on customer service and make sure we provide best service to our customers at competitive prices. We make sure all available toys are made from high grade materials and are certified by Australian standards. Each and every Ride on Toys we sell are thoroughly checked and tested so all the toys are safe for your kids.
We Have the Biggest Selection
If you want a ride that will be perfect for your little one, then you've come to the right website, check out our massive selection today. We sell all kind of ride ons at the lowest prices Australia wide. We have the perfect SUV, sports car, limited edition replicas, go karts, motorcycle, utility vehicle such as bulldozers, fire trucks, diggers and more. Our comprehensive selection of motorised and non-motorised ride on cars cannot be beaten. Our entire inventory is ready to be shipped within 24 hours.
We offer a diverse array of licensed Ride Ons as well. These include Audi, Mercedes Benz AMG, Bentley, Vespa, Mini, and BMW. We even have officially licensed Disney models for you to pick from. Our replica models get their inspiration from some of the most popular cars in the world. Here you will find Harley Davidson, Ferrari, Bugatti, McLaren, Range Rover and Porsche replicas for your kid to enjoy. Our top priority is the safety of your loved ones. We source our toys only from manufacturers we trust, and all they have been extensively safety tested. Products sold on our store meet or exceed all Australian safety standards, so you will be able to rest easy when your child uses their new favourite toy.
Our selection of cars for kids is large enough to accommodate any budget and anyone's preferences. You can pick from a wide assortment of balance bikes, push cars, pedal-powered go karts, swing cars and mini cars for kids. These come in variety of colours and styles to ensure your child can pick one that excites them and gets them playing outdoors and playing with the other kids in the neighbourhood. You can choose the perfect ride in toys for your kid by visiting our shop page today and purchasing something from our wide selection.
You Can Save Money with Us
A huge range of options doesn't mean a lot if those options are not sold at a reasonable, affordable price. At Ride on Toys Kids, we keep our prices very competitive. Our Ride Ons start as low as $67, and this includes free delivery to anyplace in Australia. We have the toy you want for whatever budget you may have.
We Promise Free Delivery
Due to COVID-19 we are doing our bit by keeping our prices low for you by offering a free delivery service to anyplace in the country. Our products are dispatched within 24 hours after purchase, so you can get yours fast. Your kid won't have to wait long for their soon to be favourite toy to arrive. What you see on the screen when you purchase is all that you pay, no exceptions, no add ons and absolutely no hidden costs.
We understand that you want your ride on toys delivered as quickly as possible. This is why we offer guaranteed 24-hour dispatch, meaning we are going to get your purchase shipped out within a business day of the sale occurring. We help you get your toys sooner so your child can start enjoying their toy as quickly as possible.
Customer Service Is of Paramount Importance to Us
We make sure that our customers are satisfied with our service and our products. If there is a problem with one of our orders, we fix it right away. We know how important it is to our customers that they receive the product they ordered in great condition and in a timely manner.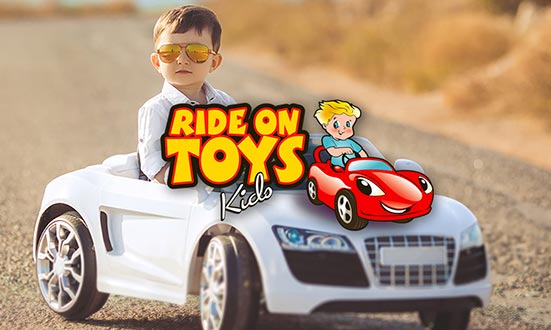 Pay when It Is Convenient
If you would like to pay later, you can do so using Afterpay. This service is available on every product we sell, and you just pick that option when it is time to check out.
Afterpay allows you to make instalment payments whether you buy in the store or online. This platform is set up for you to make a payment every two weeks, covering your total purchase cost in four payments. Let's say for example if your item cost $300, then you would pay four instalments of $75. The payments are free of interest, and you get your order as soon as you make the initial purchase agreement.
We want to help you make special memories with your family. Order from us and start making those memories soon, with a toy that your child will cherish.
Safe Use Guidelines for Operating Ride On Cars
We value the safety of our customers and their children. You can buy from us with confidence knowing that all of our Ride Ons have been extensively tested and are sure to be safe. All safety standards are adhered to with these products, and you can rest easy knowing that your child will be safe.
If you are going to buy a ride on toy anywhere else, then you should know about a few safety tips for purchasing:
Quality
Not every child's toy is made with the same standards and quality of construction. Most Ride Ons are made in China, but that doesn't mean that their level of quality is the same. The thickness and material gauge should be taken into consideration as you try to find the strongest, most durable Ride Ons. If inexpensive screws and bolts are used, they can come loose or degrade over time, and that can cause a safety hazard. You don't want to buy any toy for your child where safety is compromised. If you are buying a large motorised toy, then you want to ensure that the frame is thick enough to be stable and secure. You have to consider that that will be used at high speeds, and you want it to remain stable and intact. Otherwise, serious injury could occur.
If you buy from a poor-quality manufacturer, your ride on toy could arrive at your door in a bunch of pieces and may take a very long time to assemble. We keep our construction very simple for our customers so that they are not frustrated when they are putting their ride on together.
Extensive Warranty
We offer a 12-month warranty for all our ride on toys for peace of mind. Be careful of any sellers that do not offer a warranty of any kind, offer only few days of warranty or that offer an overseas warranty that might not be valid for your product and might not be compatible with Australian safety regulations.
How to Use Your Ride On Safely
Once you have purchased your ride on car, there are a few things you need to know about operating it safely.
Have Patience – These toys take some time to get used to, and you should be prepared to be patient with your child as they learn how to operate the electric toy. They may need some assistance at first.
Enforce Grounding – Some of the ride on toys require balance, like the trikes and bicycles. Teach your child to ground themselves so that they do not fall over. Place the seat of the vehicle low enough so that your kid's feet can be on the ground until they learn to be more confident and use the them easily.
Choose a Safe Environment – Some places are much better for your child as a play area than others. Choose a safe area where there are no cars passing and no obstacles for your child to run into, such as a smooth paved area. This gives them time to get used to the kids car and develop their skills.
Give Your child help – Your kid may need assistance at first. The motorised toys are supplied with remote controls. This lets you take control of where the toy goes until your kid understands how to operate it safely and adeptly.
If you have any more questions, please give us a call. We are happy to help you and provide you with advice about purchasing from Australia's #1 Ride On Toy Retailer.
Looking for a Ride on Toy for your Kid?
Your kid may be wanting a motorcycle, SUV, sports car, trike or utility vehicle. Whatever their desire, we have it available in our store and ready to be shipped. Our huge selection of licensed ride on toys and replica cars are going to appeal to any and every kid. We have both motorised and non-motorised ride on toys available, and we have toys to fit anyone's budget. You can get exactly the car you want for your kid and ensure that they will love playing with their ride on and spending time outdoors, socialising with other kids.
Cars
Our Ride on Cars range start from as low as $120.
Motorbikes
Our Ride on Motorbikes range start from as low as $60.
Toys
Our Ride on Toys range start from as low as $36.
What our Happy Parents Say
Thanks for the car my son loves it thanks once again. He hasn't gotten off it since I assembled it for him. Thanks heaps

Bought a Pink Mercedes for my niece and she loves it to pieces. I'm her favourite uncle since the day i've bought this for her. Love her cruising around in her hot pink Merc with daddy playing her favourite tunes. Thanks a lot guys

Billy

My 4 year old absolutely adores it, perfect gift for Chrissy and delivery arrived right on time, couldn't be happier.
What Makes Ride On Cars So Popular?
At Ride on Toys Kids, we love to make kids smile. It is just so special to see kids take off in their own ride on car and go driving down the sidewalk. Kids really love these toys, but why is that? Let's look at some of the reasons why kids adore these battery toys so much and why kids toy cars have continued to be popular for so long.
Children Like to Have Educational Play Toys (it's true!)
If you want your kid to enjoy learning-based playtime, then the trick is to expose them to educational play-toys at a very young age. This is what cars for kids do for them, many kids pick up some important information about the world around them and how to operate in it with these toys. It helps with their cognitive skills and motor functions, and children will quickly learn to improve in the area of motion and to pick up on social cues. They aren't just riding on these electric cars; they are learning important skills for the real world and are developing skills that they might not otherwise develop at such a young age.
Your child will be stimulated and grow to love trying new activities when they have such pleasant experience with ride on toys. Their confidence is going to grow, and they will learn to overcome a variety of physical challenges. Ride on Toys Kids has all sorts of kids cars. You can start with push cars to keep the child under your control and supervision and then move on to electric cars and motorbikes when they are ready. Your little one will love learning to play with new kinds of motorised toys and will grow accustomed to using a variety of skills in their everyday activities. They love the experience of using electric cars, even if it is a learning experience.
Kids Cars Are Extremely Fun and Make Parents Happy
Your child's sense will be stimulated, and their imagination will be engaged as they play with these ride on toys. They will learn how to interact with other people and have a great time doing it. Parents appreciate that ride ons are such a great learning tool that their kid enjoys using.
Kids will be learning important life skills and lessons, like building trust as they make use of their electric car. When you supervise your kids as they learn to use their Ride on toy, they will develop more trust with you, and this builds a strong bond that they will cherish for the rest of their life.
Kids also learn patience, because they will have to have patience as they develop little-used motor and cognitive skills. This is crucial for the early years of life when your child will be starting school and will have to learn to slow down and wait for the things that they love.
In addition, kids' car encourages them to learn about responsibility. As kids start to use the ride on cars for themselves, they will realise what a big responsibility you are giving them. When you trust them to operate these toys on their own, you are teaching them to take care of themselves and to watch out for dangers by themselves. They will learn how to be responsible with what they have been given.
Empathy can be learned as well, as your child can learn to share their toys with others. Not everyone will have these kids car, but all kids love them. When you take your kid to the park for an outing, they may have the opportunity to feel empathy for other kids who want to play with their toys. They can learn to share and show compassion to those who don't have the same things that they enjoy.
Your kid can also learn self-reliance, which can be seen as resilience as well. Your kid will learn to fend for himself or herself because there will be times when they are in the car by themselves and do not know what to do. They may have to figure out the problem on their own and learn to make judgements for themselves. We think it is important that you let kids figure out things on their own and teach them to have confidence in their abilities.
Checking these developmental boxes will be important for you as a parent and will be important to your child's growth. This time of life is very important to the child's development and to the parent's ability to create a bond between them and the child.
Kids Ride on Toys Are a Great Way to Spend Quality Time with Your Kid
Your kids love spending time with you. It has been said many times before that the best way to show your kids you love them is to simply spend some time with them, letting them play with their favourite electric toys under your supervision is an excellent way to do that. Ride On encourages a partnership between you and the child, help to grow your bond and foster a sense of trust. When you buy a ride from Ride on Toys Kids, you build anticipation in your child. They will be so excited about what you are doing for them and what you have purchased for them to enjoy, which is why, these electric toys make excellent Christmas or Easter presents, and of course ride on toys are very popular birthday gifts. Kids get so excited knowing that something very special is coming for them. You'll receive a confirmation from us that your order is being shipped as soon as you place your order.
Your kid will love putting together these ride on toys with you. Even though the assembly required is minimal, the time you spend together assembling the toy for your child will be a very special time.
You kid will have a blast playing with their new ride ons. You can even use this toy as a way to get kids of different ages to spend quality time together. You can give the remote control to an older child and let them control the kids car. They will love spending time with their younger sibling and help them enjoy their new toy, a win-win situation for both kids.
If you want a great way to spend quality time with your kid, then you can definitely benefit from a kids ride on cars. Through play, construction, and anticipation, you and your child will be spending a lot of time enjoying this toy.
Kids Ride on Cars and Toys Are a Joy to Use!
We have no shame in saying that these ride on toys are super fun! Your child will be grown up before you know it, and they might not want to spend as much time with you once they are grown. Why not make the most of the time you have together now with a fun toy you will both enjoy? We embrace family fun, and we give families some great ways to have an absolute blast together.
Motorised or Non-Motorised Ride Ons?
There are tons of different kids ride on toys to pick from, so it can seem overwhelming to try to sort through them all and find the right one for your child. We have a helpful buying guide for you, though. You can trust Ride on Toys Kids to help you make the best choice for your child. That's why we are Australia's #1 Kids Ride On Toys retailer.
We offer both motorised and non-motorised ride on toys for your kid. Which one do you go with? Here are some reasons why you might choose a motorised ride on:
Help Your Child's Motor Skills Develop– Motorised ride on cars help your child to develop key cognitive and motor skills. They will have better spatial awareness and will experience improved reaction speeds. Your child will also have better hand-eye coordination and better problem-solving and fine motor skills. There will be challenges they will have to face as they use these battery-operated motorised toys, that they will learn to overcome on their own.
Promotes Real World Exploration– We all want our kids to experience the real world rather than just living in the digital world. This toy gives them a way to explore the outdoors in a way that they will love and want to continue doing. They won't be quite so enticed by screens, tablets and other digital things that all the kids are these days addicted too.
Now, let's look at some benefits of using a non-motorised Ride On:
Improve Physical Wellbeing– By spending less time indoors and more time being active outside, your kids will become more physically fit. They will have more energy, will have better overall health, and will develop improved balance and muscle activation.
Encourage Real World Interactions– More time spent outside mean less time spent indoors glued in front of a screen. Your child will be more active and will experience the real world with interest they might not have had otherwise.
Fun That Never Stops– If you opt for the non-motorised version, then your child's toy will never run out of power. You don't have to worry about recharging or fun stopping because their beloved toy needs a recharge.